Nursery 2009
Great news I am expecting new litters in August 2010.
I have mated my choc and white girls to an outside boy that carries parti, chocolate, and beaver as well as dochlaggie peridot to my black and tan parti so hopefully I will get some nice coloring there.
I will deliver the news as they arrive.
WOW Lacey has 1 week to go it has gone so fast she is huge I think she will be having another big litter she is having trouble walking I feel so sorry for her .
Queenie has just underer 3 weeks she is also blooming nicely .
Please feel free to keep checking to see what the stalk brings.
WOW Lacey has done it again 5 healthy babies all healthy no parti though this time.
3 boys and 2 girls .
Photos to come soon

PARTI PUPPIES
Have a look what my gorgous very smart caramal parti has produced .She had given birth to six beautiful babies on the 30th of August 2009 Unfortunatly we lost one just 12 hours it was just to small just 49 grams but the other 5 are thriving.So you can believe how shocked I was when they just kept coming expesially being a first time mum and she knew exacltly what she was doing and done it all perfect so I say good on you Lacey.
GOSH WHAT 3 WEEKS CAN DO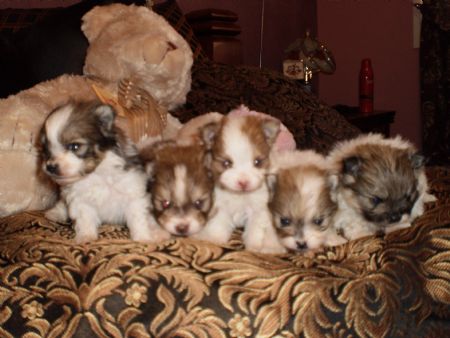 GOSH IM FEELING SLEEPY